Although Bhutan is home to hot butter tea, which warms you up to your toes, the 'coffee' culture is catching on. The Cafes have become a relaxing spot and a comfort cave for people to unwind, work, or even to get together and spend the day with friends. If you are a fan of coffee, a bite to eat and a place of comfort, you should definitely give these cafes a try:
Ambient Café
This Café, right in the heart of Thimphu, is good news for vegetarians. They provide good expresso, homemade cakes and ice creams. To top it all, they also have vegetarian lunch menu, a small library and a little corner for things on sale. The place has free WiFi too!
If you want to find a cozy corner to gather with your friends, some good coffee, and good food. This place is for you!
Central Café
Another café right at the heart of Thimphu! The place itself is very well-maintained with minimalistic décor. Their breakfast platter is well worth the affordable price which has Aioli Bread, Italian Olive bread slightly glazed with garlic butter and grilled tomatoes. A happy, full stomach at reasonable pricing of Nu. 160. You can't find a better deal!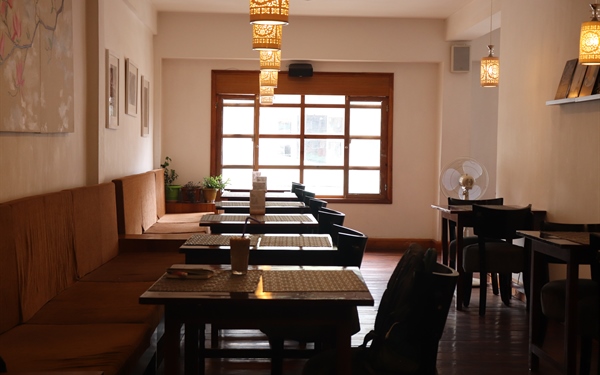 Junction Bookstore Café
Another gem of a café right in the middle of Thimphu Town, near the main Traffic. This is a heaven for bibliomaniacs! The ground floor is a bookshop with a collection of books from Classics to Contemporary. The Upper floor is the café where you can curl up with a book and a cup of coffee, AND meet other bookworms. How great is that!
Coffee Culture
This particular café is nestled cosily between Thimphu Stadium and Vegetable Market. This is a very convenient place to just sit and relax from a busy schedule and enjoy a cup of coffee. This café also provides an outdoor seating area if you want to enjoy the cool breeze, or an indoor sitting area if you prefer to be away from all the hustle. What's more?! It has comfy couches upstairs which overlooks the lower level.
They have a range of foods to serve, from spicy Ema Datsi (chilli and cheese), momos, to cheesecakes and pizza! Coffee Culture has become a popular place for people to work (with free WiFi), or to simply unwind with friends after a long day.
Brusnika Russian Cafe and Bakery
This café is located in Langjopakha, and is owned by Natalia Wangdi, a Russian married to a Bhutanese. Natalie bakes and sells an assortment of bread and pasteries. The café also has cakes, and serves lunch and dinner too!
The café relies on organic and healthy ingredients to make their products. Their pancakes smeared with jam, and their roasted chicken with baked potatoes are among the favourites of people visiting this café.The café overlooks Thimphu Tashichho Dzong and Ludrong Memorial garden. They have a small library where you can curl up with a book and cup of tea while enjoying these scenic views!